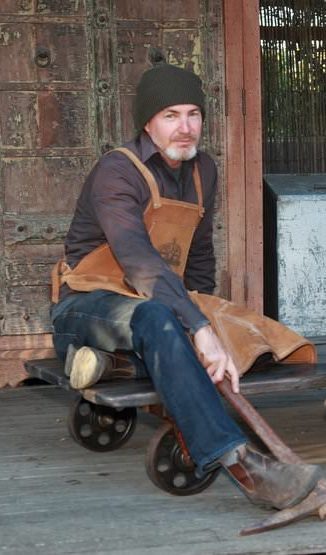 'So, who is he and what do he do? His name is Darren and he is a creative character with a passion in upcycling the unwanted leftovers of Australia's industrial past.
With a family background in building, it was very likely that Darren would acquire the knowledge to design and construct, at an early age. With those life skills behind him, he developed a real appreciation for all things old, which lead him into antique restoration. Acquiring qualifications in French polishing.
Over the years Darren has designed, restored, and built many pieces of furniture, primarily from disused recycled timber.
Moving on from using only timber Darren had tossed around the idea to creating furniture and sculptural lighting using recycled industrial machinery and other factory items which has now become Century Salvage.
As owner of Century Salvage, Darren is excited by his latest incarnation, working with old industrial machinery and equipment and hope you enjoy the pieces as much as they enjoy creating them.'