Vintage Industrial Furniture in the Hunter Valley, Australia.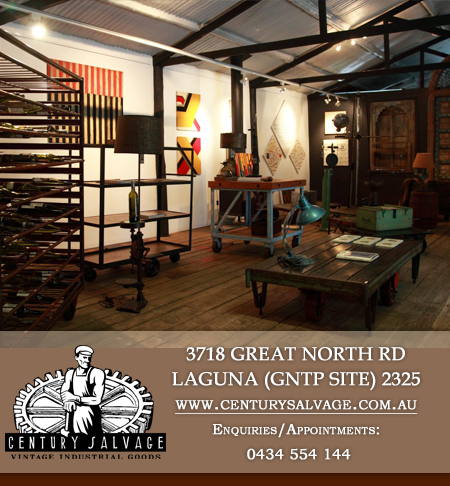 Hello & Welcome,
Here @ Century Salvage we are passionate about sustainably preserving Australia's industrial heritage. Therefore, we only source genuine old factory equipment and machinery to repurpose and transform them into beautiful and robust furniture statement pieces. No reproductions here!
Being mindful not to remove too much ageing from the furniture, we have applied all our restoration knowledge into producing furniture that displays character markings (dings, pit holes and old paint patina etc).
It is our pleasure now to be able to provide this eclectic range of items to the public. The industrial aesthetic has the benefit of becoming an obvious focal point to any interior décor, be that commercial / cafés, restaurants, wineries and of course, residential spaces.
In addition to our furniture range, we also have lovely contemporary art and antique / vintage bric-a-brac available.
So, take a few minutes to view our on-line store or better still, come and experience things for yourself in our characterful barn in Wollombi area called "Laguna".
Century Salvage is located in the historic village of Wollombi -3718 Great North Rd Laguna
Business hours: 10-3pm Saturday & Sunday. Or by appointment – Mon-Fri.